There are zillions of news topics for our Veljko. Being very busy is the name of the game -so let's proceed.
Our very own Veljko Popović was honored with a seat at this year's three piece jury for Fest Anča in Žilina, Slovakia, giving away the international competition Anča Awards 2011. Besides giving away the award, there was a retrospective of his animated films.
Animated film 'Dove sei, amor mio' made by Boonar warrior Veljko Popović and produced by Lemonade3d studio was given a Special Mention of the Jury at the Tabor Film Festival in Zabok, Croatia.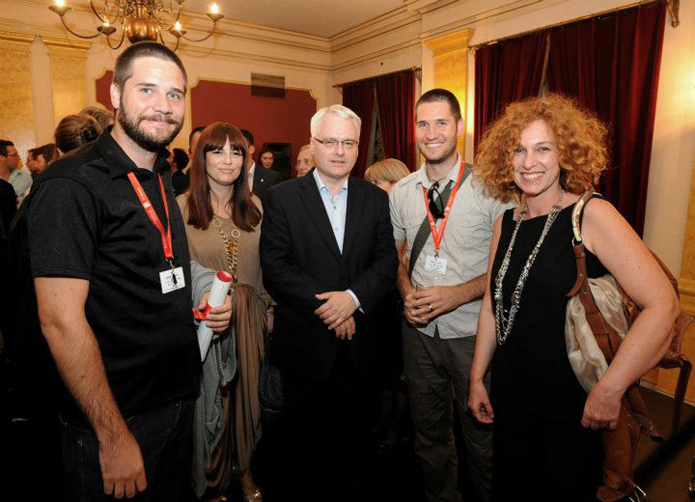 Biggest regional film festival – Sarajevo Film Festival, made 'Dove sei, amor mio', a film made by Veljko Popović, the only Croatian animated film to be included in festival's official competition for it's 2011. edition.
A film by the Boonar not-so-secret agent Veljko Popović made it to official competitions for 16th Ourense International Film Festival in Portugal and 35th São Paulo Internacional Film Festival in Brasil. Both festivals recieve more than 2000 films every year from all over the world to choose from and Ourense festival can brag with giving over 60,000€ in awards.
Croatian daily papers Jutarnji List from Saturday, July 16th in article 'DRUGO LICE SPLITA – grad divljih homofoba i Keruma? Da, ali iz njega dolazi NAJBOLJE ŠTO NUDI HRVATSKA' ('THE OTHER FACE OF THE CITY OF SPLIT – the city of wild homophobes and mayor Kerum? Yes, but out of Split also comes THE BEST CROATIA HAS TO OFFER') put Veljko Popović on the best-things-coming-out-of-Croatia-at-the-moment list.
Few more articles (in Croatian):
JUTARNJI LIST
SLOBODNA DALMACIJA