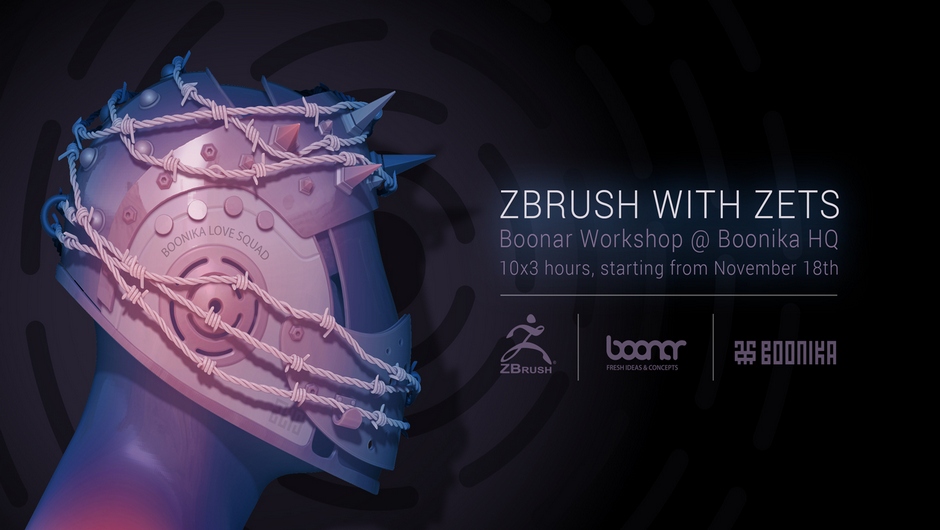 Boonika presents seventh ZBrush workshop, organised by Boonar Studio. Until now you had a chance to attend workshops by Marko Prpić, Ivan Šantić, David Bentley, Vaughan Ling and Ben Mauro, Hasan Bajramović and Darijan Kalauzović and lectures by Damir G. Martin, Livio Rajh and Timur Baysal.
Marko Prpić – Zets, a Boonar Studio member, will help you master one of best known tools for 3D modeling – ZBrush.
ZBrush is an indispensable tool in almost every worldly renowed entertainment industry studio which works on projects such as movies and video games. It is also very popular among jewelry designers, sculptors and ilustrators.
What will you learn?
1. 3D basics, especially for ones who lack that knowledge
2. Basics of ZBrush user Interface
3. Organic modeling
4. Hard surface modeling
5. Project organisation
6. Texturing
7. How to adjust the model for animation, video game, mobile aplications and sml.
8. Preparation of a done model for 3D print
9. … and much, much more…
How will it look live?
In one word – relaxed. We will have ten sessions that will last for three hours. There will be enough time for theory, one on one work and practical teaching. The goal of the workshop is to master the basics and main functions of ZBrush and to learn how to use it in the way it suits you best.
Preliminar knowledge isn't necessary for the workshop. It doesn't matter have you ever used any 3D programmes. Also, it doesn't matter if you know how to draw or sculpt – only thing that matters is your desire to learn something that could easely change your life.
The workshop will be held two times per week, on Tuesdays and Thursdays, starting on 18th of November 2014 at 18:00h. Every session will last for three hours, in total there will be 10 sessions / 30 hours. Maximal number of participants is 16.
All the quastions regarding the content of the workshop please sent to [email protected].
The workshop price is 1650kn. Payment must be resolved before the start of the workshop. For all additional inquiries please contact [email protected] or +385 (0)91 6050 535 (Tena).
Submissions are untill 15th of November 2014 to [email protected].
IMOPORTANT NOTICE: For easier participation in the workshop programme every participant must have her/his laptop and a tablet like WACOM INTUOUS or sml. There are different laptops and tablets on which ZBrush functions great. Just Google it or ask us.
About the workshop lecturer:
Marko Prpić Zets is a freelance artist from Zagreb. He is the founder of a Boonar Studio and one of the founders of an arts initiative Boonika.
About Boonar Studio:
Boonar.com arose from Boonika community – first regional creative studio consisted exclusevly of freelance authors, designers, copywriters, artists, ilustrators, animators, developers and creatives in general. Laern more about Boonar here – boonar.com.